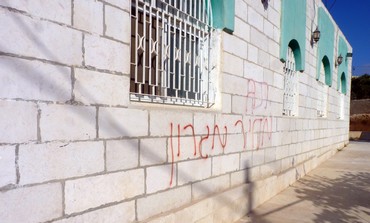 Vandals sprayed right-wing slogans on a mosque near Hebron on Tuesday night.
The graffiti included the words "Price Tag Migron" spray-painted on the outside wall of the Salman al-Farisi mosque in Imreish, southwest of Hebron, in reference to the West Bank outpost the government evacuated on September 2.
B'Tselem – The Israel Information Center for Human Rights in the Occupied Territories said on Tuesday that residents of the nearby village of Avda said they chased off a group of settlers who tried to set cars on fire late Tuesday night.
On Monday, Public Security Minister Yitzhak Aharonovitch announced that police plan to create a unit that will focus on investigating price-tag incidents, the name given to acts of right-wing vandalism or violence perpetrated against Palestinians to protest government policy toward the settlements.