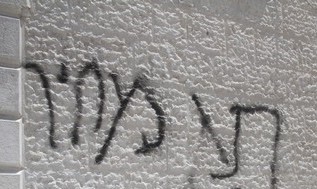 Three cars were torched and a mosque wall was spray painted with the sentence "price tag Gal Arye Yosef" in the village of Dir Istiya near Ariel in the early hours of Wednesday morning. The sentence refers to the name of an illegal outpost that was evacuated in the last few days.
The head of the Dir Istiya local council, Nazmi Salaman, told Ynet that at 1:40 am residents noticed a car with three passengers and an Israeli license plate driving at high speed on the village's main street towards the exit. "Immediately after that the residents noticed that three cars parked cars were on fire near the mosque and one of the fences that surround the mosque had the 'price tag' graffiti."
Salaman added that at first the residents called the Palestinian DCO to report the incident, later Israeli police along with IDF troops arrived due to the fact that Dir Istiya is in Area C. "This is a continuation of attacks against Palestinians and mosques in the West Bank," he said.
He noted that this was the second time that village property was vandalized. "The first time was in September when the Palestinian Authority launched their UN bid, and then settlers came and unsuccessfully tried to set the mosque on fire."