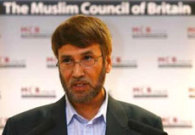 There is a particularly stupid post by Brett Lock of the Islamophobic gay rights group OutRage! today on the neocon blog, Harry's Place. In all seriousness, Lock suggests that Mohammed Abdul Bari, the newly elected general secretary of the Muslim Council of Britain, has threatened a violent response to the police raid on the house in Forest Gate, East London, where chemical weapons were supposedly being manufactured for use in a terrorist attack.
Regarding Dr Bari's role, Lock writes that "nothing in his statements to the press so far appear to concede that the police have a legitimate cause to act on tip-offs. Nothing he's said (correct me if I'm wrong) has given the impression that he's taken a leadership role in reassuring the Muslim community of the police's bona fides and difficult task. Rather he has been a foghorn for grievances an increasingly skittish public is tired of hearing."
In fact, as anyone not entirely blinded by ignorance and prejudice would know, the MCB has consistently supported police action against terrorism and has repeatedly urged Muslim communities to co-operate with and provide information to the police. Interviewed on the Radio 4 "Today" programme yesterday (listen here), Dr Bari stated:
"Since 7/7 the police have done a wonderful job. After 7/7 we had police officers making very positive comments and they were criticised by the right-wing media. So nobody is talking against the police. It is about the quality of intelligence … the community has to be taken on board to counter this scourge in society … The police have to do their job … if the community is worried … they will not get that mass co-operation. It is important to all of us to get the community on board. So information should come as quick as possible and that has to be disseminated within the community so that the community is assured."
As it becomes clear that there were no weapons chemical, biological or otherwise at the house, and it seems increasingly likely that an innocent man has been shot, it is understandable that feelings should be running high within the Muslim community in East London. Dr Bari has played an entirely responsible role, urging that the situation should be clarified as soon as possible in order to answer the anxieties of the community and defuse the anger that he has heard expressed.
Lock quotes Dr Bari's reasonable point: "Trust could be an issue. Trust could break down if things are not clarified. Angry people can do anything, angry people can even feel that they should take the law into their own hands, so anger has to be directed into positive action."
Lock comments: "Angry people can do anything? That sounds like a threat. It presents the spectre of more angry, resentful and militant Muslims driven to taking even more extreme actions. It's saying 'The situation is making us angry… and you know what we do when we're angry!'"
Next thing you know, Lock and OutRage! will be accusing Dr Bari of calling for gay men to be stoned to death.
Of course, they might have difficulty reconciling that with Dr Bari's comments in a Radio Five Live interview yesterday (to be heard here, about 1:51:39 into the programme). Referring to his speech at the Unite Against Fascism conference in February – you know, the one Lock and his friends wanted to ban him from speaking at – Dr Bari said: "Islam doesn't accept homosexuality…. But that doesn't mean that Muslims have to homophobic. There is no room for discrimination and hatred in our society."
But then, when have OutRage! ever allowed facts to get in the way of whipping up hostility against Muslims?