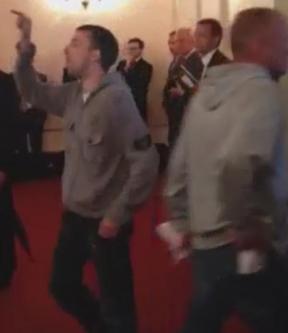 Angry protesters had to be escorted from a planning meeting by security staff as it descended into chaos after plans for a mosque were approved. Councillors sitting on the planning committee had to leave the room while campaigners against the application were led out.
Protesters advanced angrily on committee members and shouted abuse, while one person was seen to knock over a chair as they stormed out of the meeting. One protester also appeared to throw money at the councillors before the meeting was temporarily halted and order restored.
Plans for the mosque, submitted by Taiyabah Islamic Centre, which will be built on land just off Canning Street, near Blackburn Road, were approved by committee members by 13 votes to 6.
The application, which includes provision for the mosque, complete with a dome, minaret tower and 19 classrooms, had prompted protests by objectors in the lead-up to the meeting. They argued the building would create traffic issues in Blackburn Road. They also questioned the need for another mosque in Bolton.
Before proceedings began, officers informed members that the council had received petitions including one of 4,867 signatures against the plans and one with 3,308 in favour.
Video of protest here.