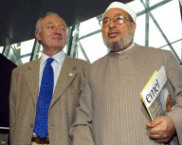 Summarising the contents of a report published today by the All-Party Parliamentary Inquiry into Antisemitism, the Telegraph says the report claims "that anti-Semitism is no longer the sole preserve of the political far-Right, but occurs across the political spectrum, including the Left.
The MPs cite concerns about the decision of Ken Livingstone, the Mayor of London, to host an event attended by the Muslim cleric Sheikh Yusuf Al-Qaradawi, who has reportedly banned Muslims from any dialogue with Jews".
Daily Telegraph, 7 September 2006
---
For the report itself, see (pdf) here.
The attack on Dr al-Qaradawi by the All-Party Parliamentary Inquiry is just ignorant. He is described as "a controversial Muslim cleric" (there are no clerics in Sunni Islam) who "has reportedly forbidden Muslims from engaging in dialogue of any kind with Jews".
And where was this accusation "reported"? By the Middle East Media Research Institute, of course. (See here.)
Ironically, MEMRI itself was responsible for publishing a much longer transcript of an interview from Qaradawi's Al-Jazeera programme (see here) in which he outlined his views on relations between Islam and Judaism in detail. (This was in February 2005, shortly after the Mayor of London had launched a public attack on MEMRI for their distortions of Qaradawi's views, and presumably they were trying to cover themselves.)
In this interview Qaradawi expressed the same views that he did during his visit to London in July 2004 on the duty of Muslims to respect Jews. "Jews lived among Muslims for centuries, even when Europe persecuted them and expelled them…. They found a safe haven in Muslim territory…. Islam welcomes those who believe in the [Jewish] religion. Moreover, the Jews are probably the closest to Muslims in terms of faith and law, even more than Christians." Qaradawi added: "There is a difference between Judaism as a religion and Zionism as a political movement…."
On the subject of interfaith dialogue, Qaradawi stated that he objected to dialogue with people like Israel's chief rabbi because "he supports the murder of Palestinians on a daily basis, supports the destruction of homes and the eviction of people, and supports the crimes and the barbaric slaughter that are taking place every day. How can I shake his hand and sit down with him?"
But Qaradawi added that he had no problem engaging in dialogue with representatives of the Jewish community who oppose the repression of the Palestinians: "I welcome Jews who dissociate themselves from what Israel is doing, and I welcome being with them."
He summarised his views as follows: "I oppose dialogue with Jewish rabbis living in Israel, who support the crimes committed by Israel. With them there is no possibility [of dialogue]…. We will hold a dialogue with those who are reasonable among them, as well as with the Christians, as indeed I have been present at a number of conferences for Islamic-Christian dialogue. But with those 'who do evil', as Allah said, we shall neither argue nor shall we have any dialogue."
Obviously the All-Party Parliamentary Inquiry into Antisemitism didn't even bother to check their facts before repeating Qaradawi's "reported" views on relations with the Jewish community.