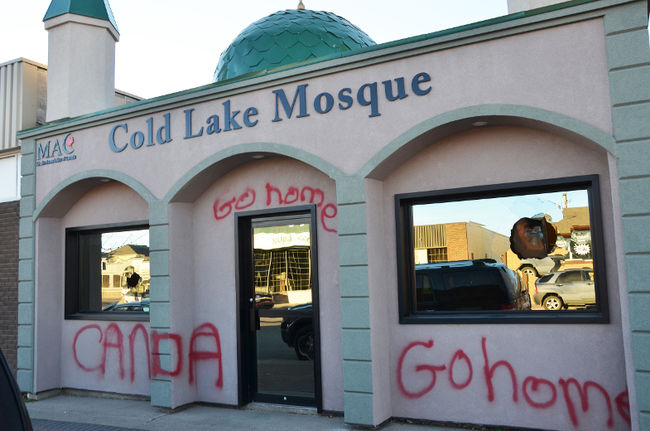 The Cold Lake Mosque was vandalized overnight in what local business owners and residents are calling a "disgusting" crime.
RCMP Sgt. Troy Hadland said police responded to a call of mischief at 6:30 a.m. Both front windows were broken and the words "go home" and "Canada" were spray painted with red paint on the outside of the building. Hadland said evidence at the scene was seized and sent to St. Paul RCMP for analysis. "This type of behaviour won't be tolerated," he stressed.
A steady stream of business leaders came in through the front door of the mosque offering their support. They described the crime as "disgusting" and assured mosque members that this crime does not reflect the view of the community of Cold Lake.
The mosque has been gathering posters, flowers and gifts from the community and displaying them by the windows that were smashed. One of the posters reads "you are home." A pen has been left by the poster and people have been signing their names.
One of the members of the mosque came in at 6 a.m. to pray, and found his place of worship vandalized. He said the writing upset him more than the damaged windows, which can be fixed. "This is my home. Cold Lake is my home. My kids were born here. They go to school here."
Mayor Craig Copeland said he is "disappointed" with the vandalism. "It's going to paint Cold Lake in a bad light (but) that's not what Cold Lake is about," Copeland stressed, adding the city is now more ethnically diverse "than ever" and the mosque and its members are a part of that. Copeland said he met with mosque officials, who will talk about the next step after this afternoon's prayers.
"It shouldn't happen," said Ajaz Quraishi, who is well known in the community for his volunteer efforts. Quraishi said he received lots of calls. "So many people say, 'Sorry to hear.'  People care here, and that's the main thing."
Genia Leskiw, MLA for Bonnyville-Cold Lake said she was "devastated" by what happened. "It's unbelievable. It floors me. I'm so upset by this," she said. Leskiw added that it's "ridiculous" that a group as involved with the Cold Lake community as the Islamic society is would be targeted. "It's undemocratic and un-Canadian."
Several other locals chimed in on Facebook. Debora Moes posted a photo of the vandalized mosque. "You do not speak for us!!! You cannot intimidate. We stand with the people of the mosque in solidarity," she wrote. Colleen McEntee wrote "the ignorance and hatred has to stop! This is not the Canadian way. I'm ashamed." Linda Sutton also chimed in, writing "This is NOT what Canada stands for.!!" Several others offered their apologies.
The aforementioned member is trying not to make this about anything more than a random act of vandalism. "I know this doesn't reflect Cold Lake. This isn't Cold Lake. This isn't Canada."
The Mosque is expected to release a statement around 2 p.m. after they conclude their prayers.
Cold Lake Sun, 24 October 2014
See also "Mosque vandalism 'by no means represents Cold Lake,' says mayor", Global News, 24 October 2014
Update:  See "Town rallies around vandalized Cold Lake Mosque", CBC News, 24 October 2014
And "Volunteers help clean vandalism from Cold Lake mosque", CTV News, 24 October 2014