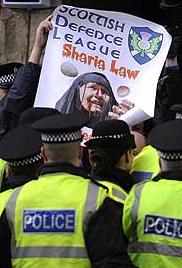 Aberdeen City Council have rejected an application by the Scottish Defence League to stage a march in the city on Saturday, June 29.
The right-wing organisation had submitted an application to take part in Armed Forces Day, but the route they had chosen included passing a mosque on Aberdeen's Crown Street. However, the local authority's Licencing Committee unanimously kicked the idea into touch when they convened on Tuesday morning, on the grounds that the SDL had failed to engage with the council or the police.
Cllr Fraser Forsyth told STV, in advance of the meeting: "We have already seen the English Defence League spread their hatred and use Nazi salutes in Downing Street. I am a supporter of Armed Forces Day and that is a well-established occasion for the public to show their appreciation for our serving personnel. But the SDL has shown, even in the route they have chosen, that they aren't interested in peaceful protest."
There was no immediate indication on whether the SDL had any intention of appealing against the decision or revising their march plans.