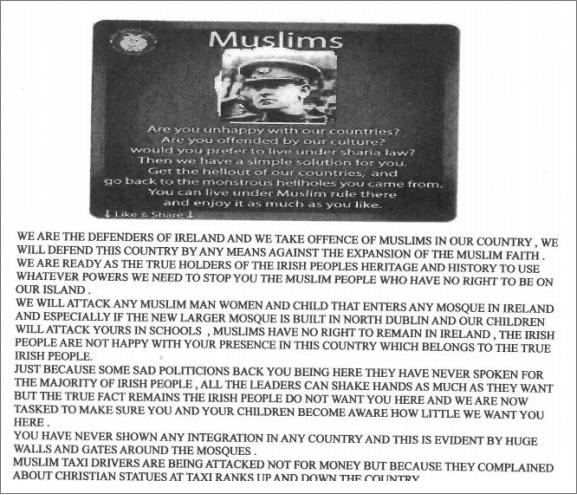 Justice Minister Alan Shatter has condemned the sending of hate mail to the Muslim community, and said he is bringing the matter to the attention of Garda Commissioner.
An unsigned letter, which features an image of Michael Collins, was posted to a number of schools and mosques recently, threatening extreme violence if building plans for a new mosque in north Dublin get underway.
The Minister said in a statement that he utterly condemned "racism and religious bigotry in all of their forms" and that he was "appalled by the nature of the letters. He added: "Religious intolerance has no place in our society. Incitement to hatred and incitement to violence are offences under our laws."
The letter states that: "Your very presence in our country is destroying our heritage and culture and we are calling on our countries' people to attack any Muslim they come across in shops, taxis or mosques or any other place they come across them."
"Anyone seen wearing a veil or hijaab will be severely delt with (sic)," it continues.
The letter also states "we will attack any Muslim man, women and child that enters any mosque in Ireland and especially if the new larger mosque is build (sic) in North Dublin. And our children will attack yours in schools…"
The intimidation has been condemned by the Irish Anti-War Movement and the Immigration Council of Ireland today. Gardaí have opened an investigation.
Read the full letter here.
"A hate campaign against the Muslim community in Dublin must be fully investigated and those responsible prosecuted," said the Immigrant Council of Ireland in a statement.
"The emergence of this letter and its threats is both sinister and alarming. The language used is that more often associated with right wing extremists which have re-emerged in other parts of Europe," added CEO Denise Charlton.
"The Immigrant Council is committed to working with the Gardaí to combat racism and is requesting that the force use all available resources to establish which group or individual is behind the letters and the internet postings and to ensure that they face the full rigour of the law.
"The response to this incident will test the effectiveness of Irelands Incitement to Hatred legislation.
"The tone and language of the letter does not allow for ambiguity, it is by any definition an act of hatred and should be prosecuted as such," she added.
According to the IAWM, some Muslim girls have received letters specifically referring to their waring of the Hijab. The group noted:
"It is evident from the letter that the mosque planned to be build in Clongriffin, near the Priory Hall site in North Dublin, is likely one of the excuses for this extremely racist reaction.
"This letter is unspeakably shameful and disgusting. The author(s) of this 'porn' claim to represent 'the Irish People' (whatever that imaginary monolith is) but that claim is an insult to Irish people. So it's not just Muslims that are being insulted.
"The letter is also deeply disturbing as it contains a picture of Michael Collins at the top. The Irish Government must denounce this letter immediately as it is a clear incitement to racial hatred and racial violence."
See also "Vicious hate letter threatens attacks on Muslims in Ireland", Irish Mirror, 25 November 2013