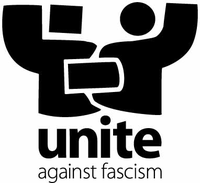 Unite Against Fascism is launching a campaign – Don't let the racists divide us – to organise a nationwide response to the attempts by the racist and fascist English Defence League and British National Party to exploit the tragic death of Lee Rigby to whip up racism and hatred.
This campaign will be launched at its 'United communities – Don't let the racists divide us' event, taking place at 12 Noon, tomorrow Saturday 1 June, opposite Downing St.
The campaign is being launched in response to the stepped up activities of racist and far right groups in the aftermath of the murder, which have cynically attempted to exploit this tragedy to pursue their own agenda directed against Black, Asian and especially Muslim communities.
This has already led to a spike in Islamophobic attacks and a wave of assaults on Mosques. Muslim communities are experiencing verbal abuse, women's headscarves have been torn off as well as more serious threats and violent attacks. Racists are simply stepping up their campaign.
This Saturday the English Defence League are organising 55 protests in different towns and cities across the country over the weekend. The far right British National Party is trying to re-launch itself after its recent splits by holding a national protest in Whitehall, Central London at 1pm – the first time they have done so since 1998.
UAF is organising local community responses around the country and the event in Whitehall to counter the BNP's mobilisation.
The 'Don't let the racists divide us' campaign will include:
– Events around the country on Saturday 1 June including:
Hitchin: 12noon, Briggate (by Body Shop)
Sheffield: 12noon, Celebrate and defend One Sheffield Many Cultures/Unity in the Community, UAF peaceful protest – assemble Bakers Pool, City Centre
Leicester: 9 am, Clock Tower
Reading: 12noon, meet by Library Town Centre
Coventry: 10.30am, Precinct (by Top Man)
Cambridge: e mail cambridge.uaf@gmail.com
York: 'Unity in the Community' UAF peaceful assembly – meet 1.30pm, North Eastern Railway War Memorial, Station Rise
Colchester: 1pm, War memorial
Burton on Trent: 12noon, Town Cntre
Birmingham City Centre: Peaceful 'Unity in the Community' demonstration details, this Saturday, June 1, assemble 11am, Centenary Sq, City Centre.
Manchester: Peaceful Unity event, 9.30am, St Peter's Square
Colchester: 1pm, War Memorial
Southampton: 12 noon, City Centre
Edinburgh: 1pm, Scottish Parliament
– A launch rally: Unity in our Community – Don't let the Racists Divide Us, 7pm Monday June 3rd – Meeting at University of London Union, Malet St, WC1. Speakers include:Peter Hain MP, Jeremy Corbyn MP; Christine Blower gen sec NUT, Ava Vidal comedian;Owen Jones writer and journalist; Daniel Trilling asst editor New Statesman, Shakeel Begg
– a national petition based on the statement launched by Unite Against Fascism in the immediate aftermath of the Woolwich tragedy. For initial signatories see below
– 'Don't let the racists divide us' public meetings and events around the country
– Love Music, Hate Racism concerts
– local counter events wherever the racists and fascists assemble with local community, trade union, faith and other organisations
The campaign starts this weekend when Unite Against Fascism will be opposing the BNP and EDL around the country. We will not let them have their weekend of hatred unopposed.