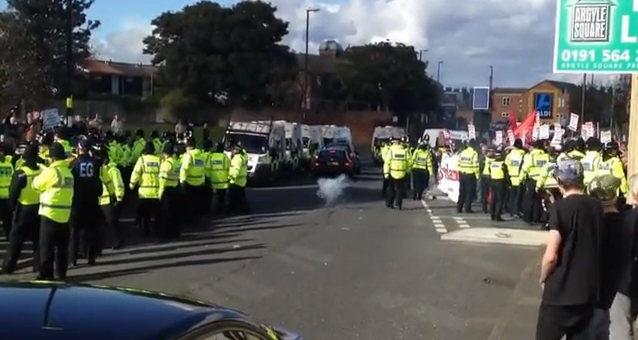 Fascists throwing firecrackers at counter-demonstrators during last October's protest
Police have charged 13 people after a demonstration at the site of a new mosque in Sunderland turned violent, as far-right groups including the EDL clashed with local Muslims and anti-fascists.
Around 200 people attended the pre-planned demonstration on St Mark's Road in Millfield on Saturday, October 6, 2012, where a former council transport depot is being converted into a mosque for up to 150 Pakistani Muslims.
The English Defence League, Scottish Defence League and Sunderland Anti-Fascist Coalition were among the protesters.
Police have now charged 13 people with public order offences, one person has been given a caution and one person has been issued with a fixed penalty notice.
All those who have been charged are banned from attending any demonstrations in Sunderland or entering St Mark's Road or Chester Road.
Sky Tyne and Wear, 1 March 2013
Cf. the earlier report by Spark and the comment by Gary Duncan of the Sunderland Anti-Fascist Coalition.