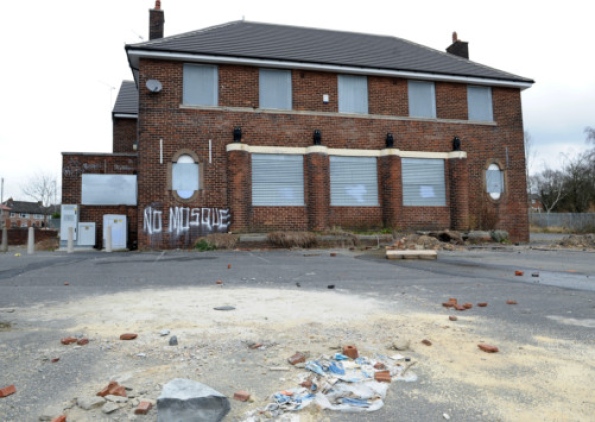 Graffiti daubed on the wall of the disused Lingfield pub last February
The right-wing English Defence League, whose members were the targets of an aborted attack by Muslim extremists in West Yorkshire last summer, is planning a rally in Leeds this weekend. Its leader Tommy Robinson tweeted that the Saturday demonstration against a planned mosque in the city would be a "lively one".
Saturday's rally is planned outside the old Lingfield pub in Alwoodley. A counter demonstration by Unite Against Fascism is also planned.
The plan for the former pub has been at the centre of a storm of controversy on the Lingfield estate. Applicants UKIM, UK Islamic Mission, who bought the site, want to create a public gym, IT suite, library, training facilities. and a prayer room for up to 70 worshippers. More than 400 letters of objection were received over traffic congestion and noise concerns. Many also expressed fears the centre would be used exclusively by the Islamic community.
The night before a planning meeting to discuss the application in February, the words "no mosque" were daubed on the building. Police were called to keep the peace at that meeting, where Gavin Boby, of the Law and Freedom Foundation, spoke against the plan on behalf of the Lingfield community [sic]. He said: "Community use is laughable. It is a lie. It is a facility for a specific sector alone. You will find it will only be used by one sector."
Members unanimously voted to give the proposal the go-ahead, despite the concerns.
See also "EDL exploits terror plot to stoke anti-Muslim agenda", ENGAGE, 1 May 2013
Here is the EDL's advert for their protest at the "sight" of the planned mosque. UKIM, an organisation originating in South Asia, apparently has "roots in Saudia Arabia", as well as being linked to the Muslim Brotherhood "who control oil prices". The EDL state that they "wont [sic] tolerate Muslim filth polluting the area with their mad paedophilic and terrorist 'religion'".