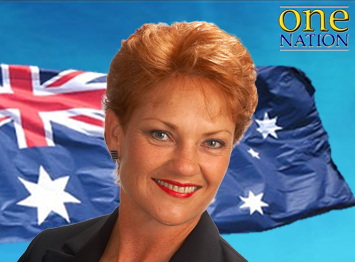 The Sunshine Coast One Nation candidate at the centre of a storm about Muslims and halal products has the support of party founder Pauline Hanson.
Mike Holt, the party's candidate for Fairfax, described halal products, which are prepared in line with strict Muslim requirements, as helping to fund terrorism. He operates a website that sells stickers that read, "Beware! Halal food funds terrorists", which have been found on Nestle products at a Brisbane supermarket.
"We are the only party standing up against the Muslin threat and this halal is part of that," Mr Holt said yesterday. "They use these stealth methods to impose their religious culture on us."
On Facebook, Ms Hanson said, "I support Mike". "I am not Muslim and do not want to buy halal-prepared and blessed food, with an Islamic tax, in my Christian country," she said.
Mr Holt had been condemned by his Greens opponent David Knobel and LNP Member for Noosa Glen Elmes, but he is undeterred. "I say to these Greens and the member up in Noosa, 'Get an education about the Muslim religion and what it's all about and you will be horrified'," Mr Holt said.
Mr Elmes condemned the stickers as "offensive, grotesque and designed to inflame hatred". Mr Knobel described Mr Holt's behaviour as "appalling", adding that the "dog-whistling" style of politics should be condemned.
Mr Holt said he was not racist. "We believe it is all orchestrated by the ALP [Australian Labor Party]. They always bring out this racist thing," he said. "We wouldn't have this problem without the ALP bringing in these boat people."
Sunshine Coast Daily, 26 July 2013